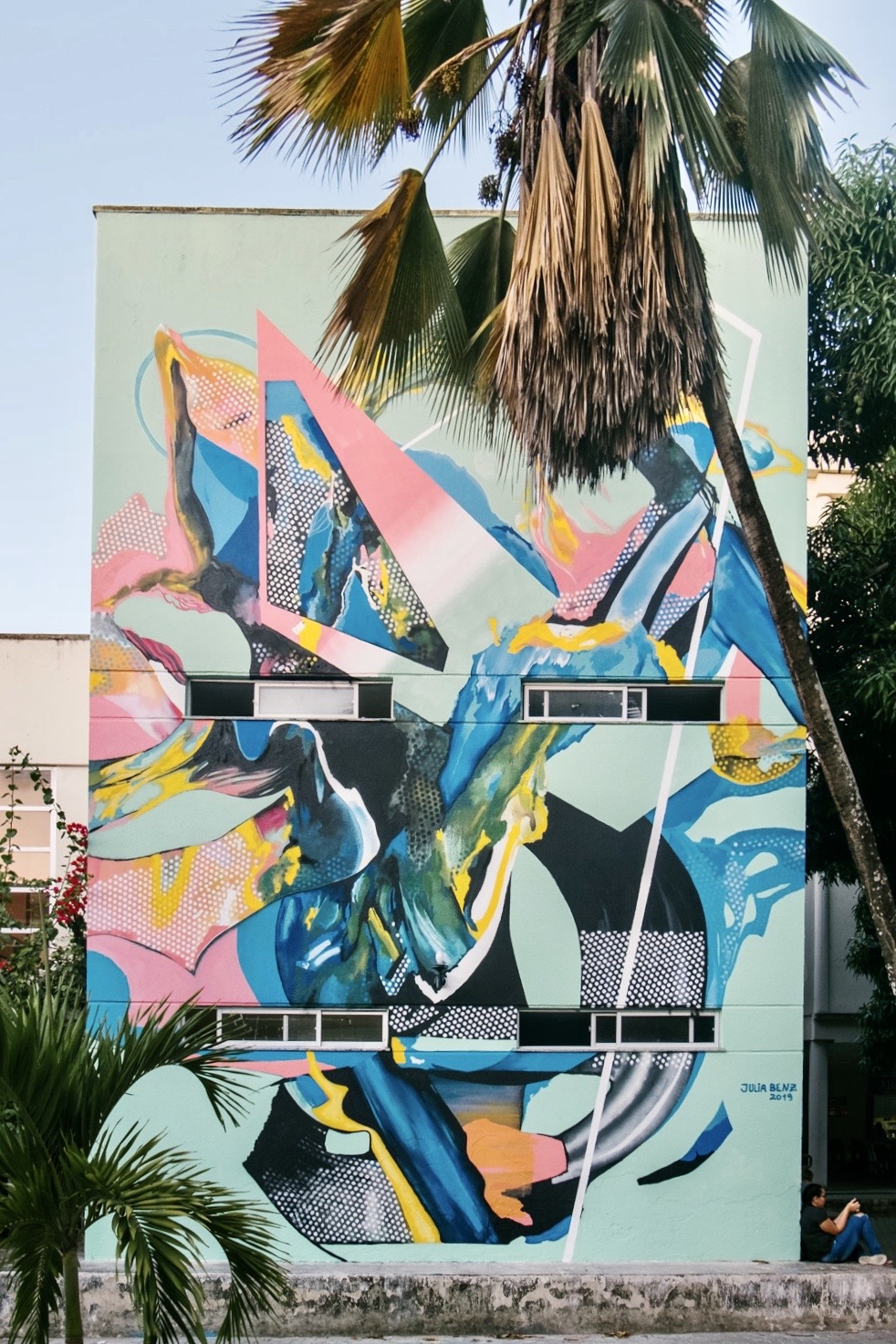 This November I got invited by Festival Concreto and the Goethe-Institut Brazil to paint a Mural at Universidade Federal do Ceará in Fortaleza, in the north of Brazil. It was the 6th edition of Festival Concreto and during the festival from 1st till 9th of November, up to 40 artists from Brazil and abroad created walls and public art pieces throughout the city.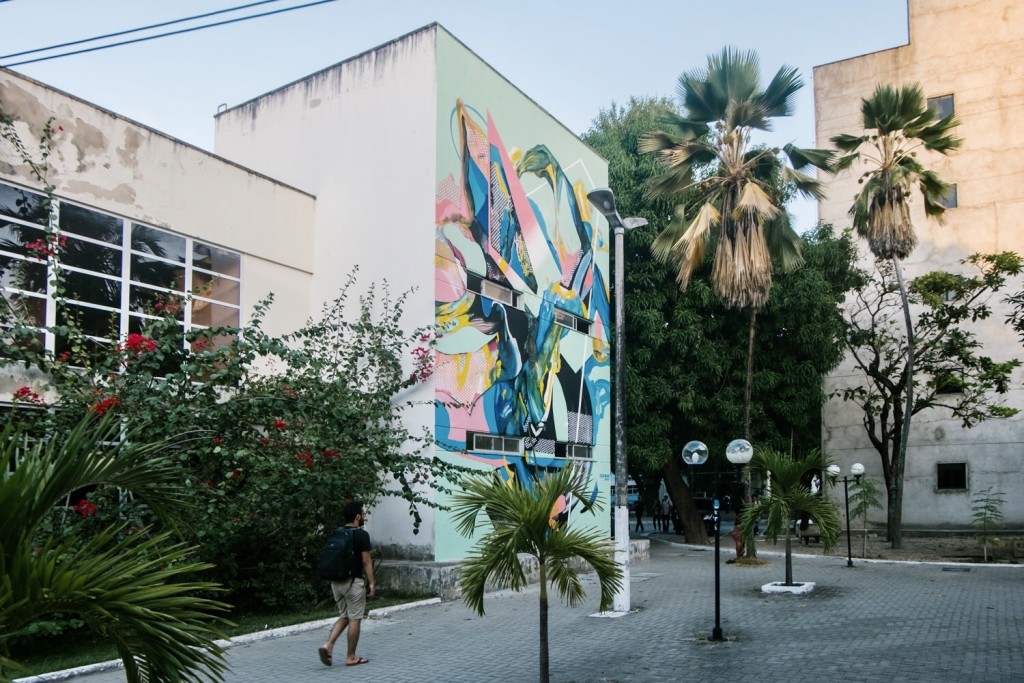 At the beginning there were some difficulties with the material and the preparation of the wall. After the Brazilian way, sometimes things take longer. Thereby it is important to remain patient and to be happy when all materials are on site. After three days we could hardly wait to start painting.
When the time came, Marie and I braved the Brazilian sun and climbed onto the scaffolding. The students of the UFC have been watching our painting process eagerly. Workers of the University brought us water and fruits from time to time. We felt highly welcomed with leaving some color at the university.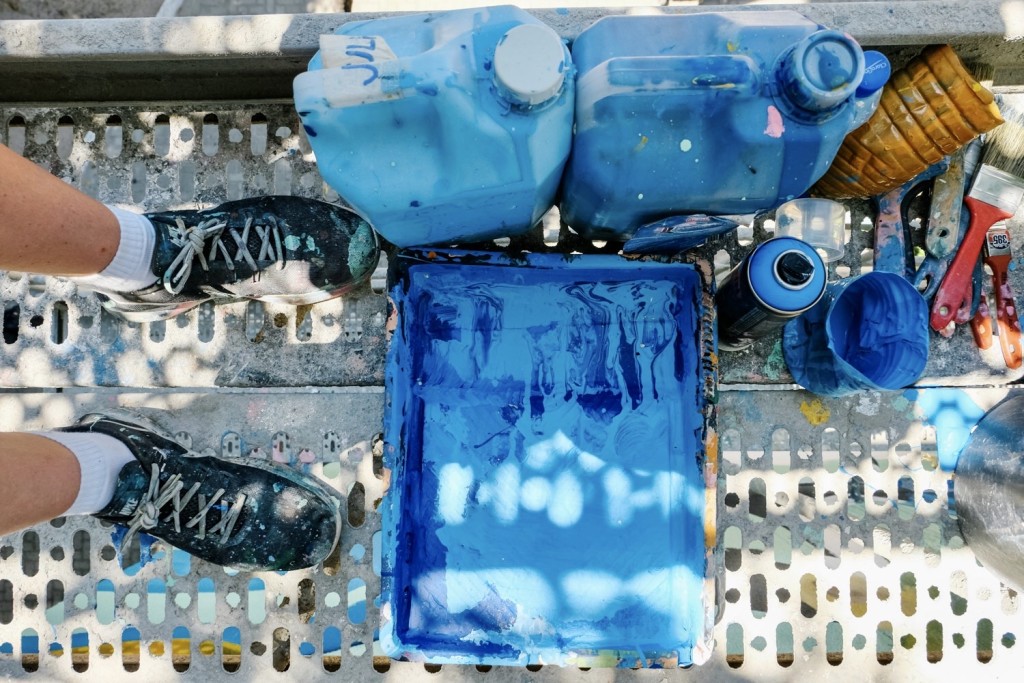 I have to admit that I do not always find it easy to work at height. Painting a wall is not only a physical challenge but also an emotional one. Nevertheless, I always like to face my fear and overcome myself.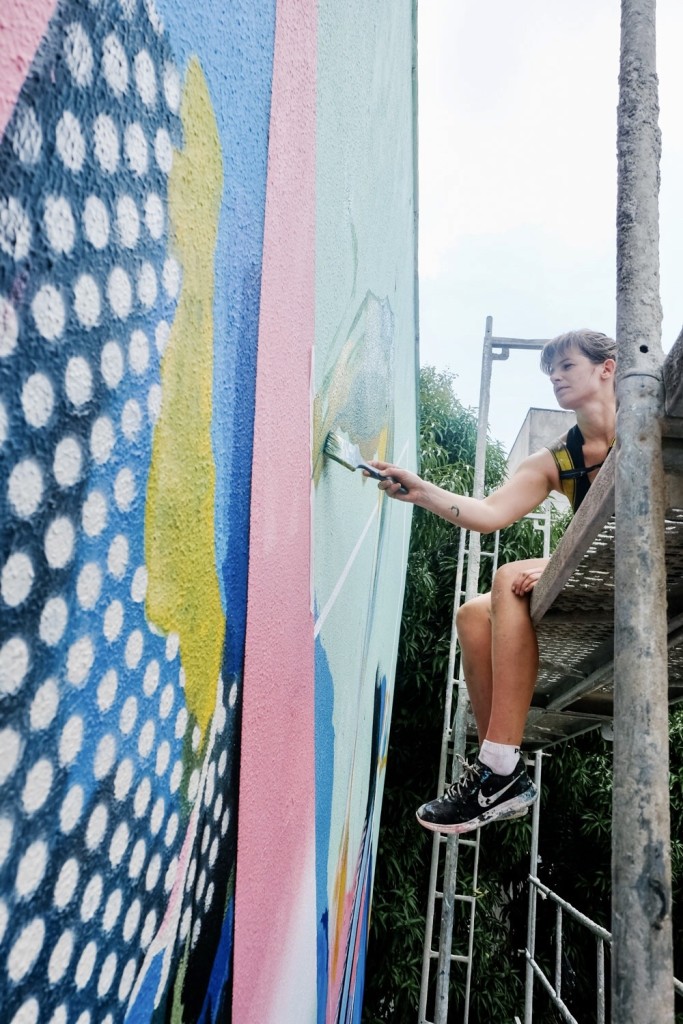 The concept of this wall painting consists of graphic forms that are interwoven with picturesque, nature-oriented surfaces. The color of the wall is inspired by the color of the sea. The area of ​​the building itself contrasts with the surrounding palms and mango trees.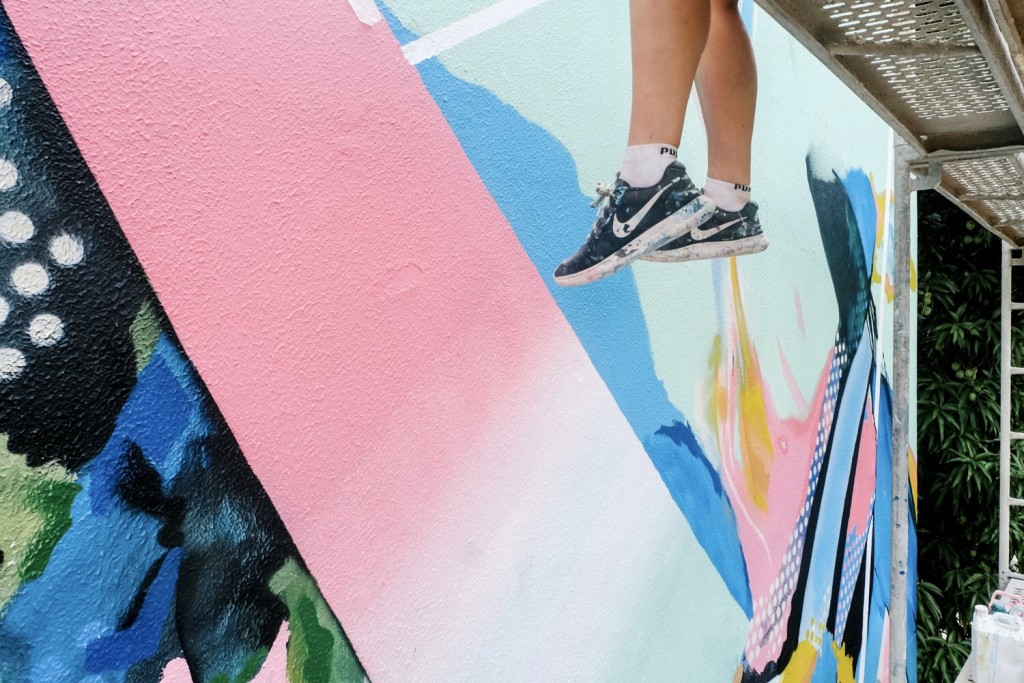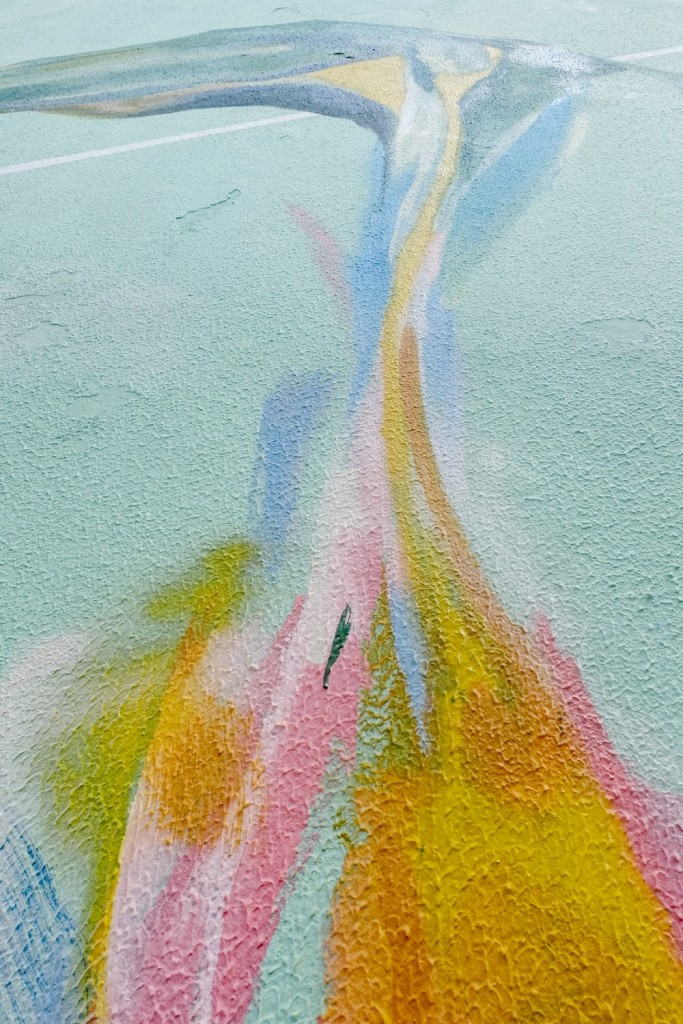 I like contrasts because they disturb the harmony. At the same time, the aim of my abstract work is to build harmony in chaos.
I perceived Brazil as a very high-contrast country. Poverty and wealth clash hard. In my painting, perhaps, there is the desire for an order in this chaotic world. At least the idea of ​​it.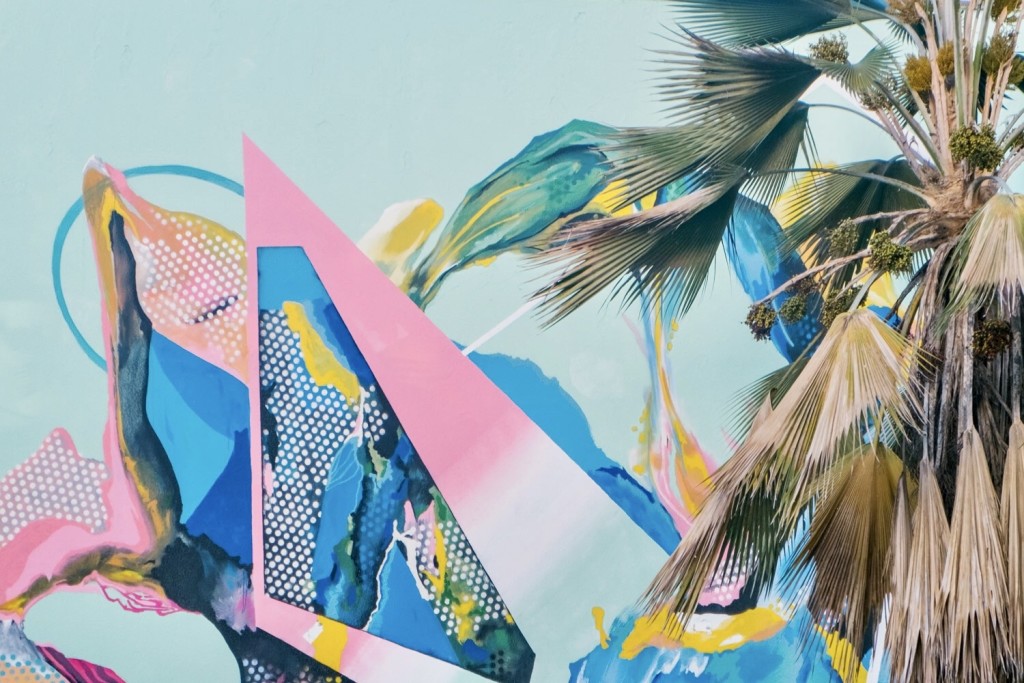 As a painterly support, I brought along Marie Mergler on this trip. She's been working as an assistant for me since this year and I'm grateful for her help. The best feeling is to stand in front of the finished wall and enjoy it. We were definitely looking forward to seeing it finished!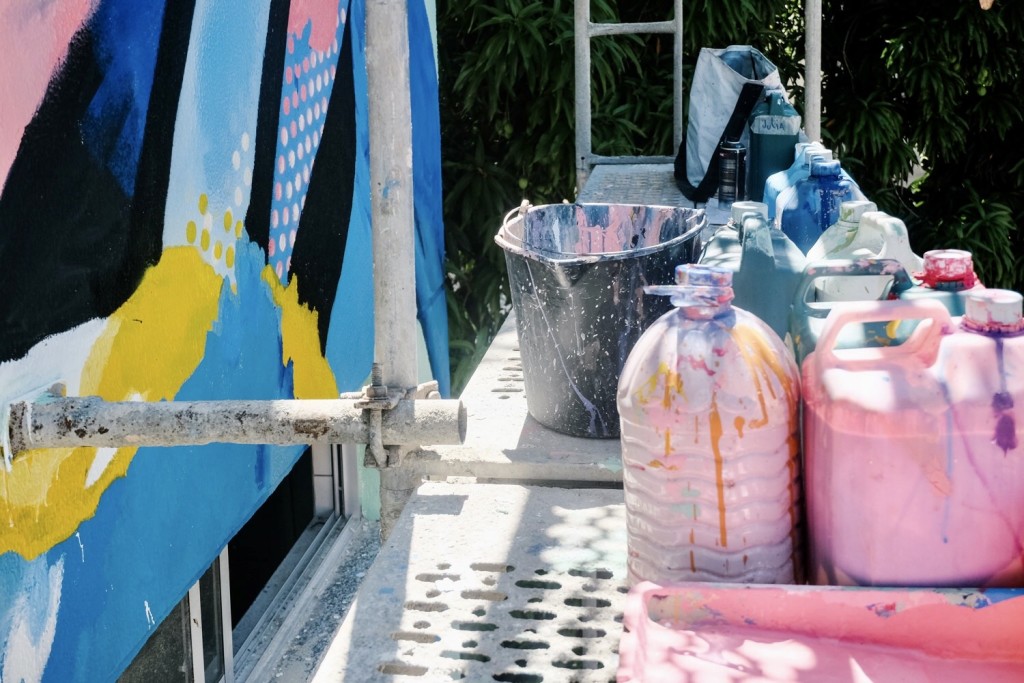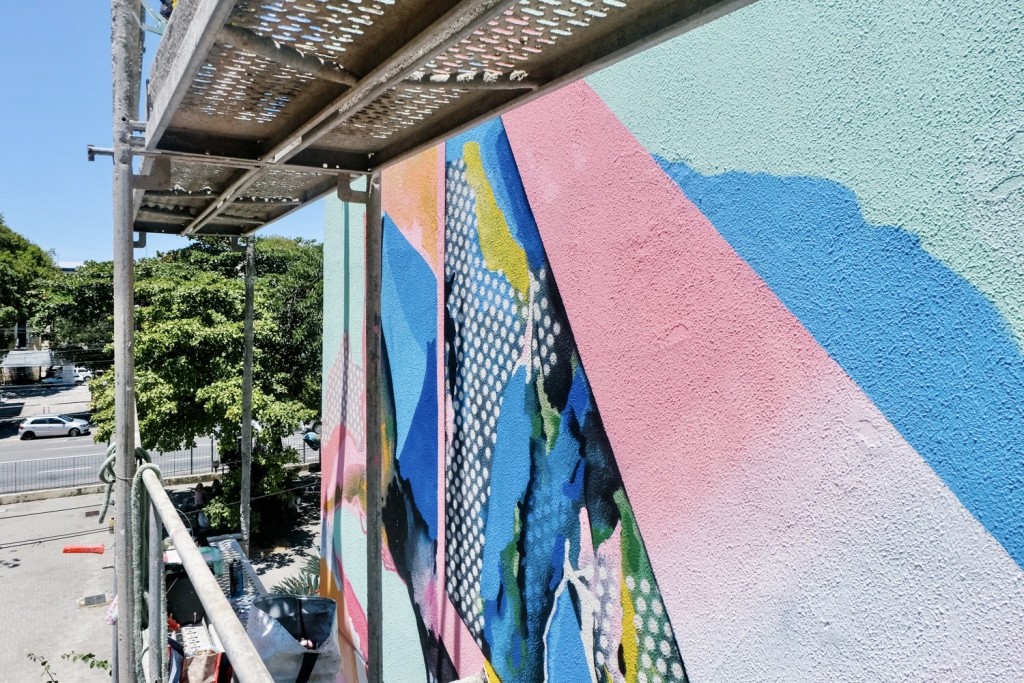 A big thank you goes to Reseda Streb from the Goethe-Institut and Galba for their support throughout the project. Narcelio Grud for the invitation. I hope to visit this beautiful country Brazil again soon.